EDEIS airports are partners of the ExecuJet global network of Fixed Base Operations (FBOs).
ExecuJet operates 23 FBOs across Africa, Asia-Pacific, Europe, the Middle East and the Americas and is a member of The Paragon Network® with a further 88 FBOs globally.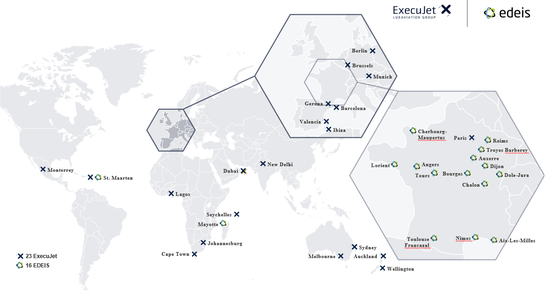 ExecuJet, part of the Luxaviation Group, is dedicated to delivering first-class facilities and services for business aircraft, passengers, and crew across five continents. ExecuJet is an acknowledged industry leader in ground handling with a long and strong heritage of operational excellence providing the highest safety and award-winning service standards.
The partnership between ExecuJet and EDEIS aims to deliver bespoke FBO services to business aviation customers at EDEIS Airport locations.
VIP Passenger Services:
Customized welcome 24/7 on request
Presidential, VIP and diplomatic flight coordination
Private VIP lounges, facilities and amenities
Concierge support

Crew Services:
Private crew briefing and rest facilities
Crew transport and accommodation arrangements
Complimentary refreshments and WiFI
Aircraft handling:
Adequate ramp and /or hangar parking
ATC and Airport Slot Coordination
Flight planning, weather and NOTAMs
Fueling
Catering arrangements